During the time of the residence in the Museum two parallel processes are being developed to be exhibited, mainly through video art and video performance. These are: Tecno-Chamán (performance, intervention and installation exercise) and on the other hand, the sound landscapes Bogotá-Zagreb-Zurich, which

are the creation of sound and visual compositions of each country, of the cities and peripheries involved in the draft.
Während des Aufenthalts im Kunstmuseum Thurgau verfolgte und entwickelte Esneider Gamboa Burbano zwei parallele Prozesse. Die benutzten Techniken waren Videokunst und Videoperformance. Die daraus entstandenen Werke sind zum einen der Tecno-Chamán (Performance, Intervention und Installationsübung) zum anderen die Videoinstallation Sound Land-scapes Bogotá-Zagreb-Zürich.
Tecno-Cháman (2019), Installation, video, performance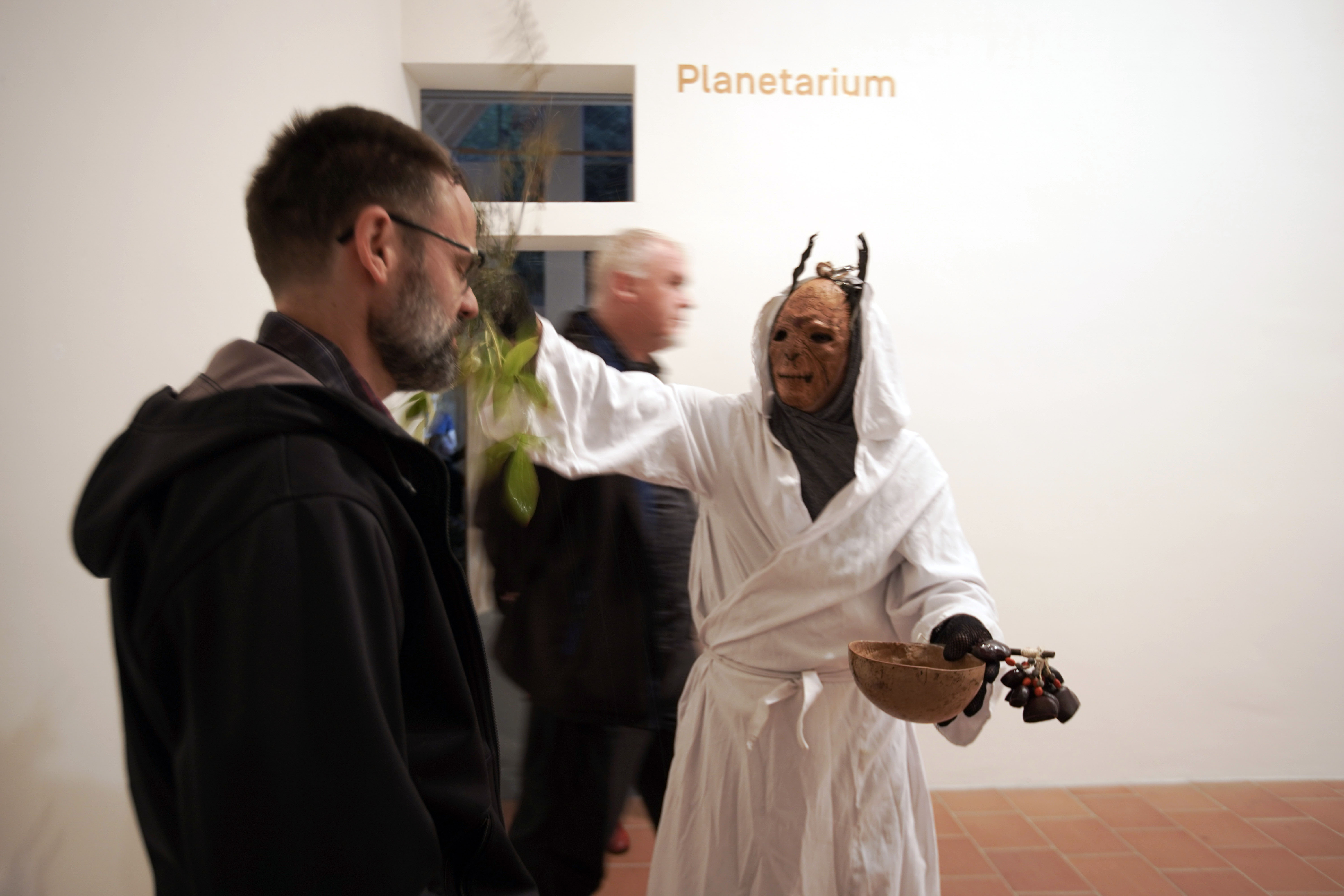 Link to video
Within the ritual, the Tecno-Cháman seeks positive, protective energies, a connection with the environment and the spectators. Ritual as a cultural process of recognition and liaison with Mother Earth, transports our minds and energetic currents to a more intimate state of reflection, understanding, vision of our past and future, with our food, water, our being, as A whole with the cosmos.

The Tecno-Cháman is an exercise in meditation and communication from various languages, verbal or bodily, a proposal for intervention and rituality in the territories.

Art as healing, spirituality as language, performance as a means of communication, shamanism as cultural research, arise in this process of personal (artist's) and collective (with context and public) creation.
Innerhalb des Rituals sucht der Tecno-Cháman positive, schützende Energien, eine Verbindung mit der Umwelt und den Zuschauern. Das Ritual als ein kultureller Prozess der Anerkennung und der Verbindung mit der Mutter Erde bringt unseren Geist und unsere energetischen Strömungen in einen intimeren Zustand der Reflexion, des Verständnisses, der Vision unserer Vergangenheit und Zukunft, mit unserer Nahrung, unserem Wasser, unserem Wesen, als Ganzes und mit dem Kosmos.

Der Tecno-Cháman ist eine Übung in Meditation und Kommunikation mit verschiedenen Sprachen, verbal oder körperlich, es ist ein Vorschlag für Interventionen und Rituale.

Kunst als Heilung, Spiritualität als Sprache, Performance als Kommunikationsmittel, Schamanismus als Kulturforschung entstehen in diesem Prozess des persönlichen (Künstler) und kollektiven (mit Kontext und Öffentlichkeit) Schaffens.
Sound Land-scapes, Bogotá-Zagreb-Zurich (2017 - 2019), video installation
What sound and frequencies does a city, a country have? Can a culture be heard? The audiovisual series explores urban soundscapes in the centres and peripheries of three major cities in Croatia, Switzerland and Colombia. The three compositions reflect the significance of public space, touch on political and socio-cultural backgrounds and illuminate the peculiarities of the three cities Zagreb, Zurich and Bogotá and their surroundings.
Welche Klänge und Frequenzen hat eine Stadt, ein Land? Kann man eine Kultur hören? Die audiovisuelle Serie erforscht städtische Geräuschlandschaften in Zentren und Peripherien dreier Grossstädte in Kroatien, der Schweiz und Kolumbien. Die drei Kompositionen reflektieren die Bedeutung des öffentlichen Raumes, berühren politische und soziokulturelle Hintergründe und beleuchten die Eigenheiten der drei Städte Zagreb, Zürich und Bogotá und ihrer Umgebung.
Performance at GRETA Gallery in Zagreb, 2017